Math Plus Tutors is a quality tutoring centre for high school, post-secondary and special-needs students. We also offer Math Plus Junior and High School Prep programs for grade school students. We provide "STEPS", a Program for young adults with special-needs. Our latest addition to our line of services are an Arabic class, STEM Adventure Club, and ART Classes for children.
Our centre is located in the prestigious village of Point Edward, 805 Christina St. N. across from The Sarnia Golf & Curling Club and The Courthouse. We are conveniently located right off the Christina St. Exit on the 402 highway.
Take our 360 Virtual Tour Inside Our Centre
Our team includes a large number of professionals ready to meet all your educational needs. We are lucky to have on board many local certified teachers and highly qualified professionals in many areas such as math, science, engineering, languages, humanities, etc. We look forward to serving you all!
Sahar Nasr
Director
Dr. Nasr has a Ph.D. In Physics from Western University and a Master's and Bachelor degree in Nuclear Engineering from Alexandria University (Egypt). She has over 10 years' experience in teaching university students and ten years in tutoring high school and college students. Her areas of expertise are higher math, science and engineering. Dr. Nasr is an advocate for children mental health and individuals with special-needs in general. She is currently a member of the Jump Start Teen transition committee, served on the board of St. Clair Child & Youth Services for many years, and was a founding member of the CMH Advocacy Committee of Sarnia-Lambton. Sahar is well-known in the community through Sarnia Muslim Association's charitable and outreach activities. She has long experience working with children with special-needs as a parent and educator. Through her work she realized the need for identifying students' needs before engaging them in tutoring services to better serve their needs. She developed a plan to facilitate a working relationship between the tutoring service, the parents and the school. This plan is the foundation of Math Plus Tutors' program for students with special-needs.
Beth Duchesne
Resource Teacher
Welcome to Math Plus Tutors! My name is Beth Duchesne and I would like to share with you my background in special education, a dynamic field that I have been privileged to be a part of for the past twenty eight years. I have received certification through both the Geneva Centre for Autism and the W.Ross McDonald School for the Deaf and Blind, and have obtained a B.A. in Psychology (with distinction) from the University of Windsor. My twenty eight years of working with students struggling with learning, behavioural or developmental difficulties have taught me to recognize each child as their own specialist in learning. I believe in taking a holistic approach to tutoring – it is solely by respecting each child's unique approach to learning that educational goals can be attained. I love working with students looking to build their reading/writing and math skills from both grade school and high school. Planning lessons, integrating games and activities plus searching for resources to better serve my students is my forte. I look forward to helping your child in the near future.
Jordan Tremblay
English/History Teacher
I have a Bachelor of Education degree from Western University. Prior to that, I attended King's University College with honours major in history and a minor in English. I have also completed several additional qualification courses, including intermediate math and special education. I have spent the past several years tutoring elementary and high school students, as well as young adults with special-needs through STEPS program. I also volunteer with special-needs classrooms in Petrolia. In my experience, every student has the potential to do well. If they are struggling, it means that a different method of teaching is required. I consider myself to be a lifelong learner, and I hope to pass that quality on to my students. My areas of expertise are English, reading/writing, history, math and literacy skills for young adults.
Monica Coulas
English/FSL Teacher
Monica graduated with distinction on the Dean's Honour List from the University of Western Ontario at Althouse with a Bachelor of Education: Junior Intermediate. She is also qualified to teach FSL, Fine Arts and Drama. With over 20 years teaching experience across boards in south-western Ontario, Monica has developed a student centred philosophy, committed to honouring the unlimited potential within each of us. She has also enjoyed a private clinical practice working with students with special needs and exceptionalities. In 2009 Monica was voted one of Canada's top 10 new artists by Artmajeur.com and has had her work featured in galleries in the GTA, Simcoe and Chatham Kent. At Math Plus Tutors Monica teaches Math Plus Junior and High School Prep students. She also covers English for high school level.
Nada Ibrahim
Junior French Tutor
Salut, je m'appelle Nada! I'm a grade 11 student currently attending Northern Collegiate Institute and Vocational School. I've been in French immersion for 13 years. My favorite subjects are Math, French, English, and Spanish. I have experience volunteering with elementary school French and Math teachers in FI classrooms. I am beyond excited to be a part of the Math Plus Tutors team! At Math Plus Tutors I have been working with FI students on their math and French for a year through Math Plus Junior math as well as reading/writing under a teacher's supervision. I look forward to working with your child on improving their math and French language skills.
Meghan Reale
Biology, Anatomy & Physiology
Meghan earned her Bachelor's degree in Medical Sciences with honors in Biochemistry from the University of Western Ontario (UWO). She further pursued her passion for sciences by completing a Ph.D. in Anatomy and Cell Biology working in research facilities at both UWO and the University of Michigan, Ann Arbor. Since earning her doctorate, Meghan has been a college professor for over 3 years, teaching a broad scope of courses in the health sciences. Meghan believes that one's education is a life-long process accentuated by emerging technologies and a variety of alternative teaching tools and methods. More than that, a love of learning comes easily when students understand how they best learn. She strives to help her students uncover their individual learning style and abilities, a focus that is integral to her teaching and tutoring style. Meghan's areas of expertise are: biology, microbiology, anatomy and physiology.
Shilpa Sharma
Math, Science tutor
Hello, my name is Shilpa Sharma. I am a student of educational technology and instructional design in Lambton college. I have completed a masters' degree in mathematics, graduating from computer science, and a bachelor of education from India. I have four years' experience in tutoring math, science, and English. My main responsibilities during my work were to help students explore different problem solving strategies in mathematics, organised different classes according to their grades, provided guidance and feedback to school going children, met with student's parents and kept them informed of their children progress. I'm excited to join Math Plus Tutors' team, and I look forward to share my experience with your children. Areas of experise; mathematics and science for high school and college students.
Raghad Abu-Thuraia
English/French Teacher
Hello friends, my name is Raghad Abu-Thuraia and I am a graduate of the Bachelors of Education program at McGill University. I have worked with children since I was 14 years old. I have always wanted to become a teacher as I have a great passion for enhancing students' learning development in school and out of school. I always look for different ways to teach, in order to keep the students engaged. I use versatile teaching methods depending on the students' needs and their learning styles. I believe that educators have an important role in the student's cognitive and learning development and I wish to fulfill that by working with students at Math Plus Tutors. Areas of experise Math Plus Junior and High School Prep in English and French.
Sheena Lacroix
English & Art Teacher
Sheena completed an Honors Bachelor of Fine Arts, Specialization in Studio Arts degree from Western University and a Bachelor of Education degree from Nipissing University. She taught in Alberta for two years which included Grade 4 General, Grade 7-9 Language Arts, Fine Arts, Drama and Health. Sheena is an advocate for art education and believes that the arts should be accessible to everyone. She believes art is essential to education, teaches us to be creative thinkers, is excellent for mental health and leads to many career opportunities. She looks forward to teaching even more students at Math Plus Tutors and hopes to see you there! Sheena specializes in Math Plus Junior reading and writing. She also teaches children Art Classes.
Meriem Srihane
French Tutor
Bonjour, Je m′appelle Meriem. Je viens de l'Algérie, c′est un pays au nord d'Afrique. Algerian people speak French, because Algeria was a French colony. I studied Management and Economics at l'Université de gestion in Algeria. J'ai travaillé dans une entreprise de la promotion immobilière. Here in Canada I have the pleasure of sharing my knowledge and skills in French to help children improve their French language. Areas of experise; Math Plus Junior in French K-3.
Halima Diallo-Dent
French Tutor
My Name is Halima Diallo-Dent I am excited to be a part of Math Plus Tutors. I completed my High school in French at the Lycee Hoggo Buro Labe Guinea (West Africa). I went on to study for five years at the Lincoln College in Monrovia –Liberia. I graduated with honours in office Administration bilingual. I also had to repeat my Canadian high school diploma when I came to Canada. I have been teaching part time French at the Sarnia Islamic Academy for 3 years. I love teaching French I also work part time at North Lambton Lodge in forest as a personal support worker. I look forward to helping your children achieve their full potential in French reading, writing, speaking, and grammar. Merci j'espere qu'on va se rencontrer tres bientot. At Math Plus Tutors Halima teaches Math Plus Junior Reading/Writing in French as well as FSL for high school students.
Natalie Orrange
Science and Math Teacher
Hello! I am Natalie Orrange. I earned my Honours Bachelor of Science at Trent University with majors in biology and chemistry. I then went on to earn my Bachelor of Education at Queen's University. I am currently an Ontario Certified Teacher with qualifications in Biology, Chemistry, and Mathematics. I have spent my years since graduation teaching in several different school boards, as well as tutoring students in both elementary and secondary math and science. I strive to help all of my students succeed, whether that be my students in the classroom, or the students I tutor. I love working one on one with students as I believe students get personalized learning experiences this way. I have a passion for teaching and am looking forward to living out that passion through Math Plus Tutors.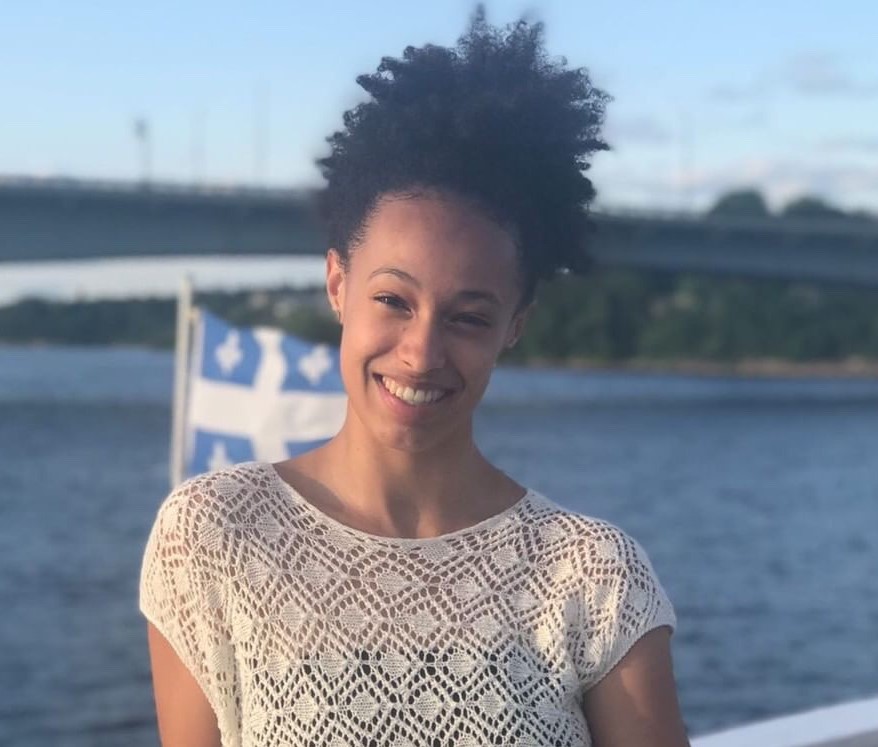 Jamilah Dent
Junior French Tutor
Bonjour! I am currently a grade 12 student at Northern Collegiate Institute and Vocational school. I have been in French Immersion classes for 13 years. At Northern I play basketball and rugby in my free time. My favorite courses are English, French, Spanish, and the sciences. At MathPlusTutors I tutor French and I enjoy teaching and working with children. I am looking forward to tutoring students in French. À bientot! Area of experise; Math Plus Junior in French.